Teamlogo.com, formerly known as CODE3GRAFX has been offering custom imprint & embroidery in Winston Salem, NC and to the world via the internet since 1996. Teamlogo.com is owned and operated by a Retired Law Enforcement Officer with over 25 years on the job and a former Firefighter. We specialize in bringing custom designed clothing and gifts to our customers with little or no set up costs.
TEAMLOGO.COM
130 BISHOP STREET
WINSTON SALEM, NC 27104
EMAIL: cservice@teamlogo.com
Shipping
We offer shipping to the US and also international shipping. Teamlogo.com uses both the US Postal Service and United Parcel Service to ship your purchases. If Economy shipping is selected, we will determine which carrier to use based on package size, weight, location that the package will be shipped to etc... Shipments to Post Office Boxes will be made only using the United States Postal Service, however packages over 2 lbs will require a UPS deliverable address. International addresses will be shipped through the US Postal Service. We make every attempt to ship all orders as quickly as possible, however during peak times and times of high sales volume orders will be shipped in the order that they are received. In the event that shipment will be delayed for more than 7 business days we will notify you our customer by email of the delay. The exception to this is if you have ordered a custom item that normally by it's nature requires more time to design and to produce. Custom items require time to design, setup and produce. We ask that you allow up to 2 weeks for production. Rush service is available for an additional charge on some items. Large purchases will require a signed credit card agreement prior to items being shipped.
Expidited Shipping: When shopping at Teamlogo.com for items that you will need shipped using Next Day Air, 2nd day air or 3 day select these services are available for an additional charge.
Specific Time Requirements: If you are shopping our web site for an item that you have a specific time requirement you may elect to indicate the date your item is needed in the comments area of the checkout process. This will allow us to make judgements regarding delivery of your purchases and also will allow us to contact you in the event your timeline cannot be met. We will make every attempt to work with you and do whatever we can to make your shopping experience a pleasant one.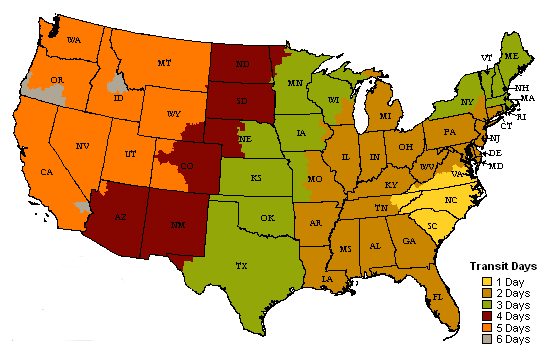 This is the map generated by UPS. This shows normal delivery times for UPS Ground Service from our location to you. These times are not guaranteed. This will assist you in determining a shipping method.